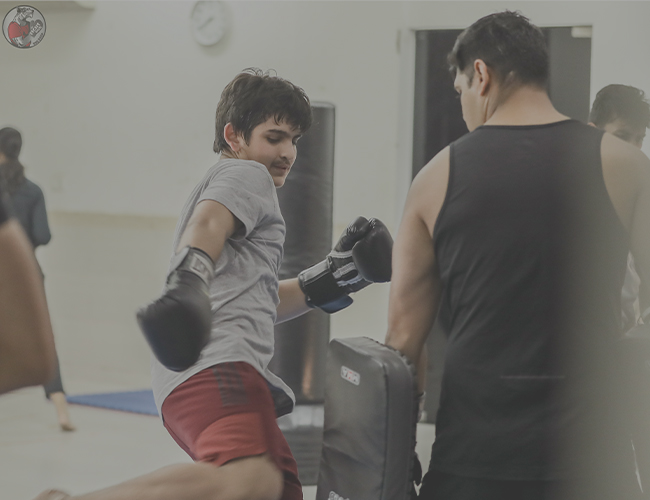 About Kickboxing
Developed from the martial art of Karate in Japan, Kickboxing is a stand-up combat sport based on kicking and punching. It is practiced self-defence, overall fitness, and training in the sport.
The modern-day kickboxing, which is practiced and taught all over the world is inclined towards Dutch Kickboxing. It incorporates techniques from three martial arts – Kyokushin karate, Western Boxing, and Muay Thai. 
The Dutch Kickboxing has a strong reputation for using punching combinations to strongly create a hole in the opponent's defence and make their way for a great finish. We at The Fight Hub teach moves and techniques of Dutch Kickboxing only.
Kickboxing at The Fight Hub
Kickboxing is a well-known form of martial arts, which is focused on boxing, knees, and kicks. In recent times, the sport has gained tremendous popularity and many people are coming forward to learn kickboxing. People, who look forward to increasing strength, coordination, or just starting a kickass cardio workout, enjoy training in kickboxing.
Kickboxing is one of the many martial arts taught at The Fight Hub. We blend the various art forms into one while taking sessions and label the martial art to which the particular move belongs. For example, if a person kicks in the face during a training session, we highlight that this is a kickboxing move. In this way, we teach Mixed Martial Arts (various martial arts including kickboxing in Gurgaon) all the time.
While providing training in kickboxing in Gurgaon, The Fight Hub ensures that a person not only learns self-defense and one to one competition but also understands the martial art. We take pride in our interactive and progressive teaching methods and welcome you to learn kickboxing in Gurgaon.
Training Routine for Kickboxing
When it comes to learning a sport or training in martial arts, there is no limit to practice. However, at The Fight Hub, we take 1-hour sessions for every batch.
If you are looking at a one-hour workout, which is related to kickboxing in Gurgaon, we have a standard pattern which is as follows:
5 minutes: Warm-up

25 minutes: Circuit training, cardio, interval training, conditioning, and core training

25 minutes: Combat training

5 minutes: Cool down
The above routine is well-designed and aligned to suit everyone. Besides this, we also provide personal training for kickboxing in Gurgaon.
Frequently Asked Questions
If you have any questions related to learning kickboxing in Gurgaon, you can reach out to us anytime. We will try to get back to you within 24 hours. In addition to this, you may find answers to some of your questions here itself.
Are there any health or fitness requirements to learn kickboxing?
There aren't any health or fitness requirements as such to learn kickboxing. As long as one is not carrying a serious injury or a medical problem, one can start learning kickboxing.
How to start learning kickboxing?
Come to The Fight Hub! There is no way you can do it all by yourself at home. You need to ensure you don't have a serious injury or a health problem and then turn up at our training center. We will help you start and take it to the end.
How many hours of training per day is required to learn kickboxing?
If you are looking forward to learning kickboxing as a hobby, training for 3 to 6 hours a week is more than sufficient. However, if you wish to be a pro fighter, go for competition, and make a career in it, there is no time limit to the training. The more you practice, the more sessions you do, the better you get at it.
What equipment is needed for kickboxing training?
The people coming to the training center must be wearing track pants or shorts and a shirt in which movement is very comfortable. The training is done barefoot, so footwear is not important. They need to bring a pair of boxing gloves along with them.
Do you provide private classes for kickboxing in Gurgaon?
Yes, The Fight Hub does provide personal training or private classes train people in kickboxing in Gurgaon. The personal training sessions take place at our gym in the morning hours. It is a personalized session dedicated to an individual.
How long does it take to become good at kickboxing?
We all know learning is an endless journey and kickboxing is not new to it. However, if you are consistent and dedicated to the art, you can learn the basic moves and the first step of fighting slow in 6 to 8 months. You will start moving, throwing attacks, and defending yourself in this span. With every 6 months added to it, good becomes better.
What are the health benefits of kickboxing?
Kickboxing is functional training and does not involve any cosmetic fitness. It is good for overall health and strengthens the cardiovascular system, helps to lose weight, promotes muscle toning, and increases flexibility.
Why would anyone learn kickboxing?
There are only two reasons why anyone would learn kickboxing. First, the person likes the idea of the fist-fight and enjoys performing the art or the battle. Second, the person wants to learn self-defence, to be able to defend and protect in case he or she ends up in a fist-fight.
Does kickboxing help in losing weight?
Yes, it does. Kickboxing is an intense body workout and has several types of trainings in the routine. This helps the body to burn calories, hence, to lose weight. It engages every muscle group in your body, with a strong focus on your core and reflexes. People training in kickboxing tend to reduce body fats and gain muscle mass.
Join Kickboxing Classes in Gurgaon
If you are keen on finding an institute that resonates with your passion for learning kickboxing and guides you in the right way, come to The Fight Hub in Gurgaon. We will help you discover the martial art of kickboxing, which is not only a brilliant sport but also an effective self-defence technique and a healthy activity for the body.
What are you waiting for? 
Join the kickboxing classes in Gurgaon today by contacting us. See you soon!