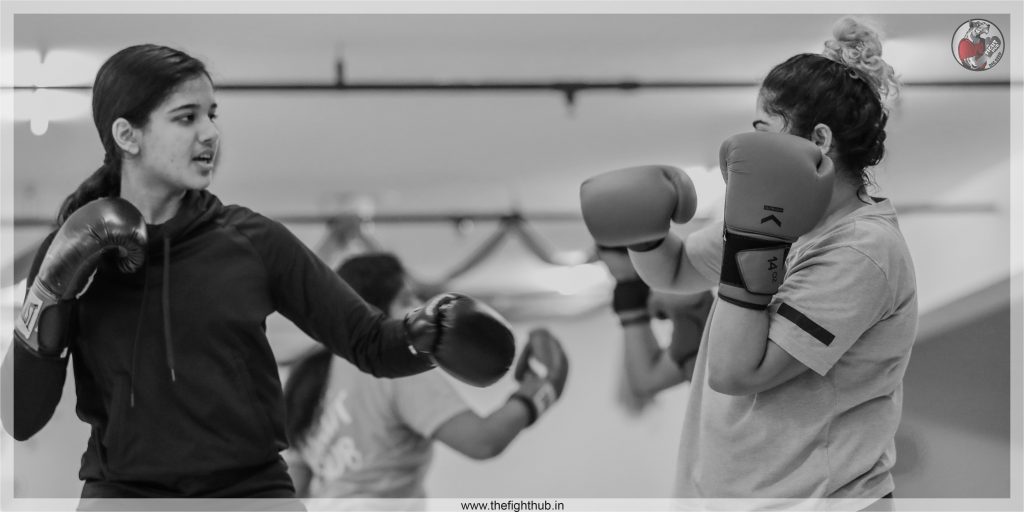 About Self Defence
In today's time, arming oneself with a skill set that protects and safeguards your life in the exterior world is very crucial. In fact, it has become a necessity for living in world full of threats.
Self Defence is the collective term used for the countermeasures adopted by an individual to defend his or her health or well-being from harm or destruction. It is the justified use of force and techniques in retaliation to the dangers and risks posing in front of the individual.
Mixed Martial Arts (MMA) is used as a way of defending oneself by people across the world. MMA based self-defence training is a great way to protect yourself, your family, and your property against attack or threat of damage by anyone. 
Self-defence at The Fight Hub
Self-defence is an ideology and a skill to be able to protect yourself from assaulters, who don't inform you before attacking. It is not a sport with rules and guidelines but a skill to be acquired with practice. When we talk about unarmed combat, MMA (Mixed Martial Arts) is the most effective way to save your life. MMA based self-defence involves all techniques of all the martial arts in the world that could protect you and help you escape the attack on the streets.
We at The Fight Hub (Gurgaon) do not offer separate classes for self-defence but highlight the self-defence techniques or moves while teaching Mixed Martial Arts (MMA). At our centre, we explain to our students the micro techniques they can expect to defend from the attacker and the self-defence techniques they can use in case they land into a street fight.
There's a difference in the way you fight in a tournament and in a street fight. We explain to the learners that in self-defence there are no rules and no limitations. They need to save your life and escape the attack at priority. The Mixed Martial Arts (MMA) based self-defence techniques remain the same but there are no rules in case of a street fight.
Training Routine for Self-defence Techniques
When it comes to learning the techniques of self-defence and training yourself to protect in unexpected situations, there is no limit to practice. However, at The Fight Hub, we take 1-hour sessions for every batch.
If you are looking at a one-hour workout, which is related to self-defence training in Gurgaon, we have a standard pattern which is as follows:
5 minutes: Warm-up

25 minutes: Circuit training, cardio, interval training, conditioning, and core training

25 minutes: Combat training

5 minutes: Cool-down
The above routine is well-designed and aligned to suit everyone. Besides this, we also provide personal training for self-defence in Gurgaon.
Frequently Asked Questions
1) What are the health and age requirements for learning self-defence techniques in Gurgaon?
The minimum age for learning self-defence techniques is 10 years and there's no cap on the maximum age limit. If you wish to join the self-defence training classes, you should not have any medical condition or injury. You can consult your doctor before joining the classes.
2) How to start learning self-defence in Gurgaon city?
Join us at The Fight Hub! Self-defence techniques cannot be learnt or practised solo and you cannot do it all by yourself at home. If you are medically fit, come to us and we will help you learn it from start to the end.
3) What equipment is required for learning self-defence techniques?
No equipment is required as such but you should be in an attire that allows comfortable movements. We practice the self-defence techniques barefoot and unarmed. You need to imagine yourself in a street fight situation while coming for self-defence training at our centre in Gurgaon.
4) Do you provide personal training/private sessions for self-defence training?
Yes, The Fight Hub provides personal training or private classes for self-defence training in Gurgaon. The private training sessions are dedicated to the individual who wishes to learn self-defence techniques primarily. All personalised training sessions take place at our training centre in the morning hours.
5) What is the minimum duration required to learn self-defence techniques in Gurgaon?
Practice makes you perfect. Nearly 6 to 8 months of training is required to perform well in an unarmed street fight situation. You need to train for hours to build your confidence and your fitness to be able to hit someone on the street.
6) Why is learning the self-defence techniques or taking self-defence training important in today's world?
Self-defence has become an important skill in today's unpredictable and challenging world. Learning self-defence is important to be able to independently survive attacks and to develop confidence that is needed for unarmed combat.
7) What changes or improvements does one see in oneself after learning Mixed Martial Arts based self-defence techniques?
If you are training for enough hours, you can see many changes in yourself. These include an increase in self-confidence and self-discipline. You also improve the way you would deal with an uncontrolled fighting situation on a street and get out of an uninformed attack.
8) Is self-defence training a good way to stay fit?
Yes, it is. Self-defence training, like other high-intensity workouts, taps your body's natural ability to build energy, increase the muscle tissues, and burn fat, and therefore, keeps you fit. It promotes a healthy lifestyle by improving both mental and physical health.
Join Self-Defence Training in Gurgaon
Learning self-defence techniques is a great way to get prepared for unexpected and uninformed situations in life. If you are looking for an institute that fulfils your desire of learning self-defence techniques and guides you to perform the best in case of unarmed combat, The Fight Hub in Gurgaon is the right place.
We will help you discover various Mixed Martial Art techniques, which are not only a great way to defend yourself in dangerous scenarios but also a healthy activity for the body. The more you practice, the more chances are there of you performing better in an uncontrolled and uninformed street fight situation.
What are you waiting for? 
Join the self-defence classes in Gurgaon today by contacting us. See you soon!